June 13, 2006
Welp, I finally got to go out for some Sharks,But this trip was special...
I invited my Brother in-law Scott and his son (my nephew)Zack
My buddy Gabe decided to also bring his son Patrick, his daughter Tiffany, and his Brother in-law Randy....
Luckily I had Extra Poles for Scott and Zack...
And Needless to say I purchased 4 extra Sturgeon Leaders (Steel Leaders)... LOL
Anyway....
On with my Fishing Report
We went to our usual spot on Tomales Bay near Inverness...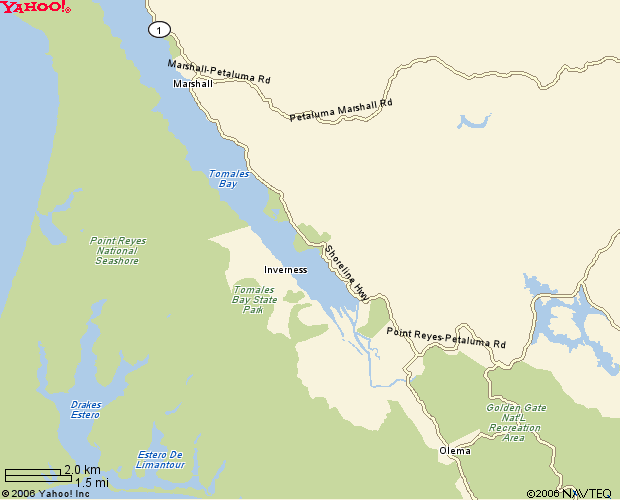 So we all met up at my Brother in-law Scott's ServPro Shop in Concord at 5:00am... Well that was the plan so we could get to the spot by at least 6:30...Which was supposed to be the lowest point of the tide... and high tide wasn't till 1:30
So I showed up at 4:30am....
Scott showed up at 5:10....
Gabe on the other hand, showed up at 6:15.... LOL
so we left a little later then planned
We didn't get to the spot till about 7:00am
But the tide was still out and we were able to get to the secret spot
So I started rigging up Zack's and SCott's poles and was in the process of setting up my pole when 10 year old zack hooked into something....
SCott helped him reele it in and as it got closer we could see he got a nice sized Bat Ray....
Can you tellhe didn't want to get too close to the whipping tail....LOL
So then after we got the fish back in the water and re-baited his hooks and casted his line out, I went back to rigging my pole....
I was about to bait up when Randy hooked into A small Leopard Shark....
He said it even though it was a throw back it was still the biggest fish he had caught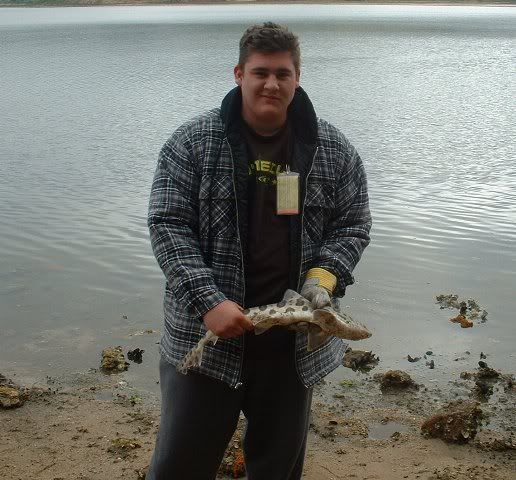 I then decided I better get my line in the water....QUICK....
So I casted out and waited.... and waited...
And waited.... for Zack to catch another fish...
This time it ended up being a nice size Sand Shark
You can see they get pretty long (This is still a small one), but they are really thin... Not much meat on em'
SO I got a firm grip on the Bad boy and made Zack get close for this pic
All I had to say is "Don't worry I won't let him Bite you"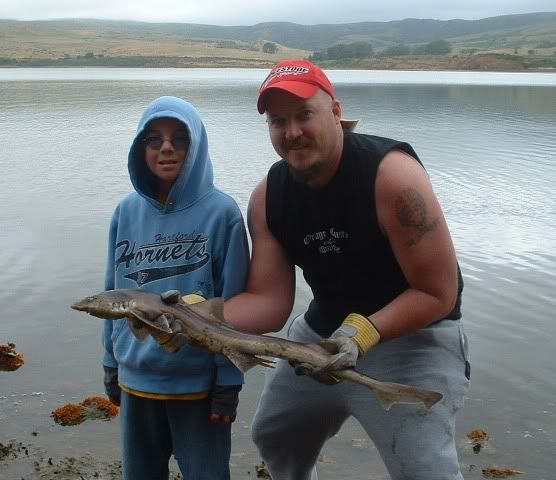 A little while Later Zack caught what Gabe and I named the "Stupid Fish"
I have no idea what they are, but they make worthless bait....
You can see the excitement in our face...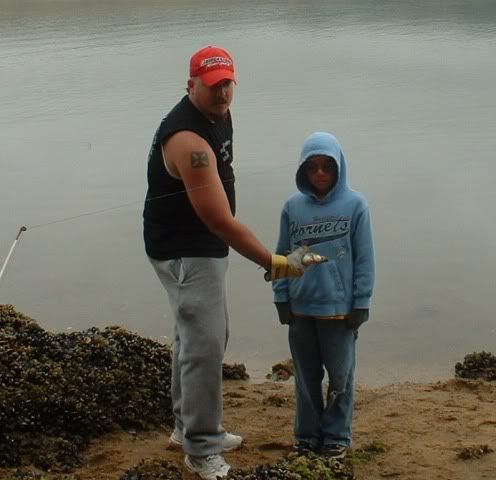 After this pic I then showed Zack the proper way to return the Stupid Fish back into the water....
I threw him as far and high as I could out over the water....
He landed and I think He could figure what just happened...LOL
A Seagull swooped down and took him for a ride...Sort of.... LOL
After that Gabe got a good hit and something Big ran with his bait...
He was able to slow it down and turn it....
I threw the gloves on and ran to the shore line and waited to make the grab...
As it got closer we realized It was a BIG Leopard Shark.... And when I say big I mean It was bigger then any of the Leopards I have seen pulled out.....
When I lifted him from the water I estimated his weight around 65lbs
He measured about 4-1/2'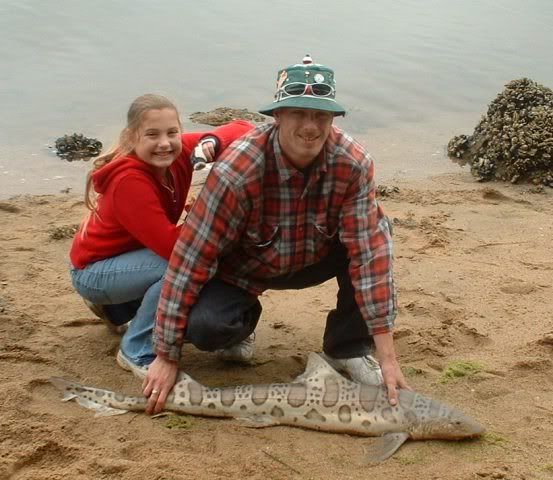 The coolest thing about this, is, This was Gabes first landed Leopard Shark...
Not bad for a first....LOL
Not bad at all
SO we strung him up and started to bleed him out
So we then all went back to manning the poles...
Randy got a good hit that almost spooled him
He was reeling it in when the bad boy spit the hook
It looked like it was gonna be another keeper.....
After awhile Tiffany was watching the water and saw a crab...
So we of course caught it and took a picture, but we then returned it to the water...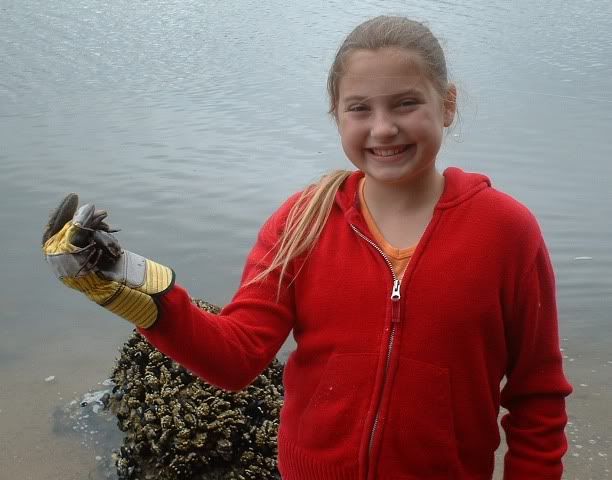 Then a few minutes later while Zack and Tiffany were busy throwing Clams aginst the rocks...
Zacks Pole came alive....
Scott ran over and Began the fight....
So I once again done the Glove and waited at the shore line
As The Leopard SHard glided in over the rock I coould See it was a keeper....
SO I made sure to Grab hold of the Leader so he could run again...
I then pulled him on shore and handed him over to Scott for the picture...
Zack Laid claim, but Technically it was Scott's
If you fight it and land it...It's yours....
But we told Zack it was his anyways...LOL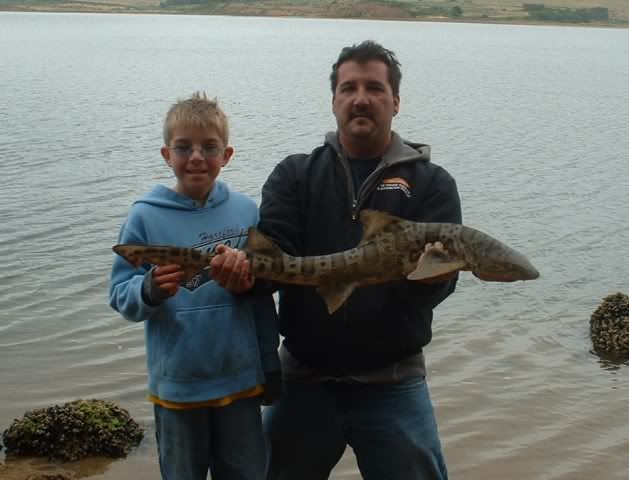 Soon Randy got a hit and began to fight another fish...
We all waited to see what it was...
We could see it was a shark.... But what kind....
It was another Sand Shark...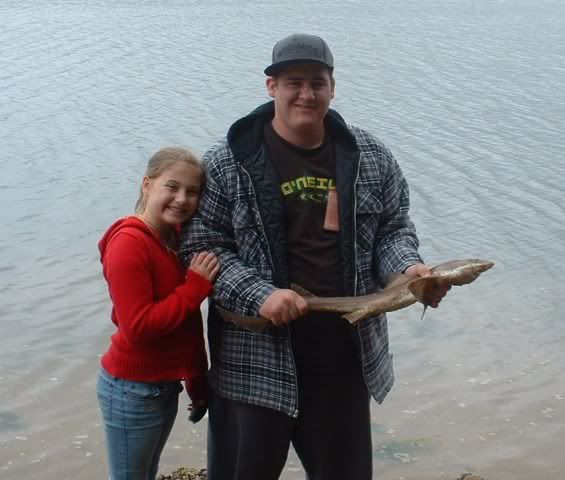 After a few minutes of nothing, I guess It was The Bat Rays turn...
Zack caught this one...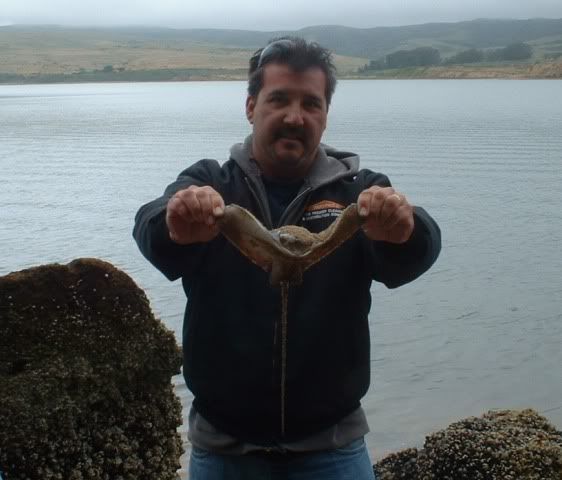 Then Patrick caught this nice one....
Which he proudly held up for the camera...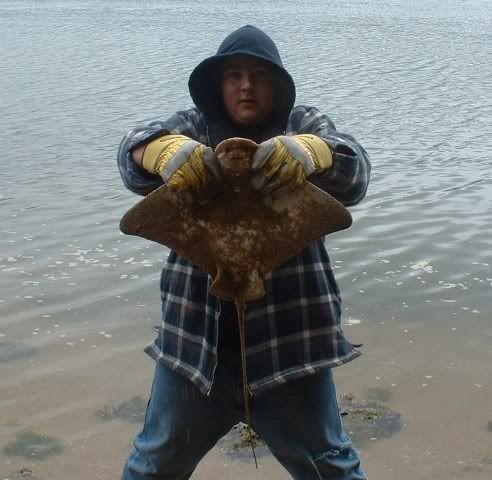 The after a few missed hits Gabe Hooked into another Nice Leopard Shark...
This one wasn't as big as his first, but it was still a nice one...
When we got him on shore I asked Gabe if he wanted to throw it back...
Because he had said he only wanted one...
But after fighting it I guess He changed his mind...LOL...
A good fight can do that...
Well the Tide started to come in fast so we decided to head back to the beach before we had to swim back....
So we packed it up and changed spots....
Soon after changing spots
Zack hooked into another Sand SHark... We all laughed and told him he needed to save some for us...LOL
And this time we let him reele it in with only minimal help
I showed him how to hold it so we could get a good shot with him and his Shark....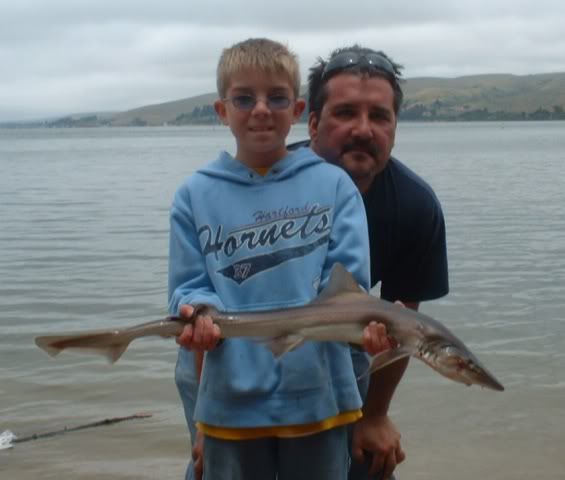 I told him How many of his friends could say they actually caught a shark
After about 30 minutes Zack got a small hit... then nothing
I told him to just reele it in and check his bait
SO he did...
Low and Behold He had another fish....LOL
But it was a "Stupid Fish"
So this one to got a free Flying lesson back into the water...
WEEEEEEE!!!!!
After about another 30 minutes of nothing we decided to pack it in for the day....
SO we strung up our three sharks and Hiked back to the trucks...
Gabe and I were on Shark duty...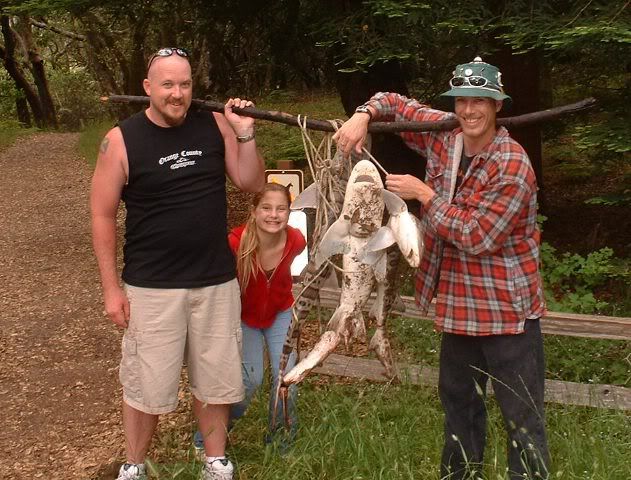 Well all in all it was a good day.. and I think everyone had a good time...
I may not have caught anything, But that';s not what this trip was about...
Sure A leopard shark would have been a nice bonus, But I just wanted to see Zack Catch something...
It just so happend He caught pret