July 25, 2005
I got back from my fishing trip on Lake Tahoe
We got a charter boat for 2 half days. We went out for Mackinaw (Lake Trout)
There was 5 of us. Bill and Bob work with my father inlaw Joe at Firestone and the other is a good friend of my father inlaw his name is John and he runs his own advertising company
Well enough of the introductions...LOL
On with the fishing...
We got out of bed early at 5:00am and headed out to the dock on Ski Run Blvd.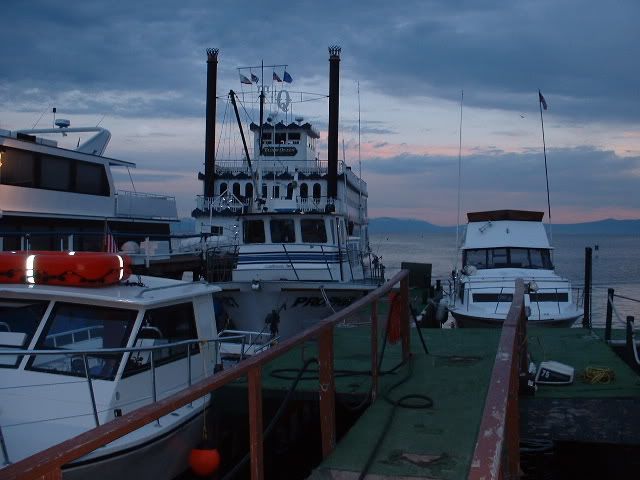 It was looking like it was going to be a beautiful day on the ride across the lake. I couldn't pass up this shot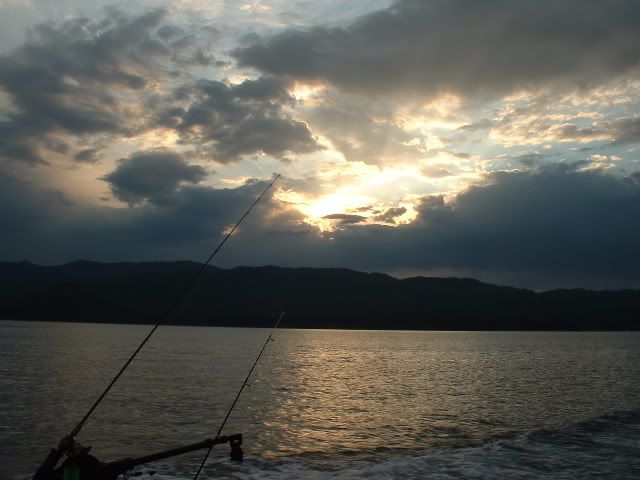 Once we got to the other side of the lake we began trolling for Mackinaw
It was a different type of trolling then I'm used to. Seems how Lake Tahoe isn't a flat bottom Lake you have to keep you rig moving up and down to keep it from getting snagged. We were fishing in about 150-200 feet of water and had to keep our minows about a foot off the bottom.
John Caught the first Mack, But I wasn't able to get a shot of it before they put it in the box.
Bob caught the next one and I made sure to get a picture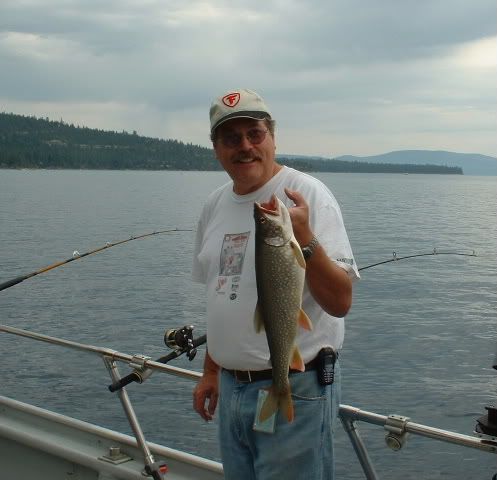 Then about an hour later Bill caught this nice one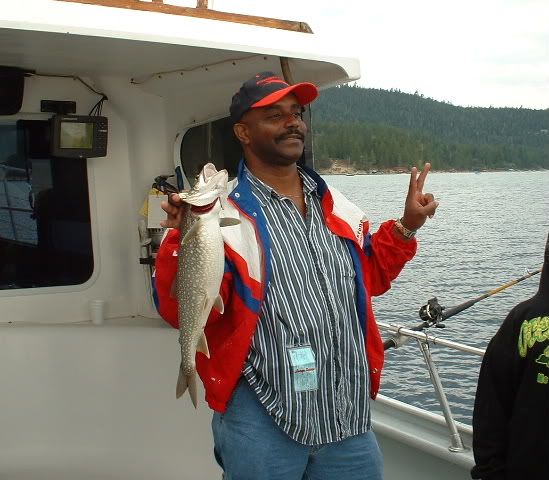 We were fishing till 11:00 and it was getting close to 10:30 when I got 2 good hitts but I lost both on the retrieval. Then Joe hooked into and landed this nice one right before we headed back to the dock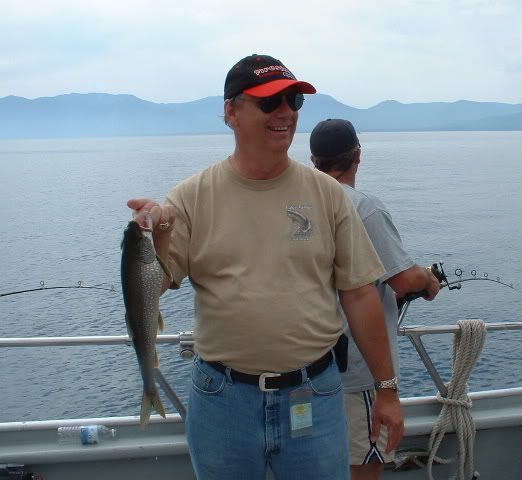 On the ride back my father inlaw pointed out the mountains to me and asked "Do you see the cross?"
You know I had to take a pic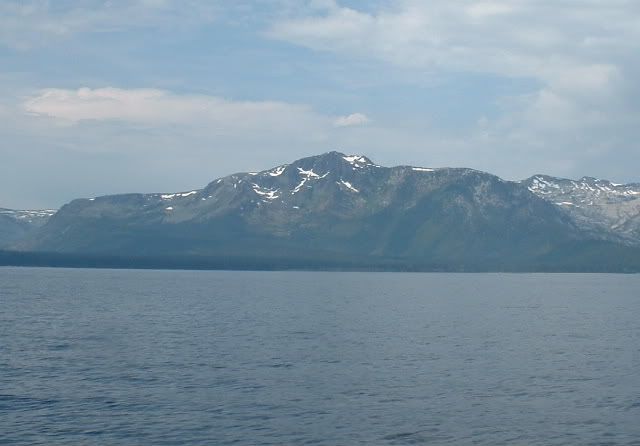 It was a nice day out on the lake, but I hadn't caught a fish yet
So I was a little bummed, but I knew there was still more fishing to be had for the day....
After haveing lunch and taking a little nap back at the cabin we decided to head out the the west fork of the Carson River.
The river looked nice, but we didn't see any fish in the crystal clear water
So we decided to go to the east fork of the Carson
At the first stop I had fun showing Bob and Bill how to unsnagg their lines
then I showed John how to tie a loop onto his line so he could put a hook on.... Sometimes I like fishing with guys who don't really fish, but it usually ends up being more like fishing with little kids....LOL I told them that too...LOL
I just had to get a better shot of the truck
Well well nobody caught any fish so we decided to head up river more.
We fished here for about 2 hours and joe caught one Rainbow with his fly pole. I decided to move down river a little more and try with my fly pole. Well after awhile I hooked into a Rainbow, but to my horror I realized I didn't have my net with me. I tryed to get the dude up onto the rocks. I got the fish up out of the water, but the fish wiggled and snapped my leader line...... GRRRRR! You can imagine the words that came out of my mouth.... I'm still kicking myself for not having my net with me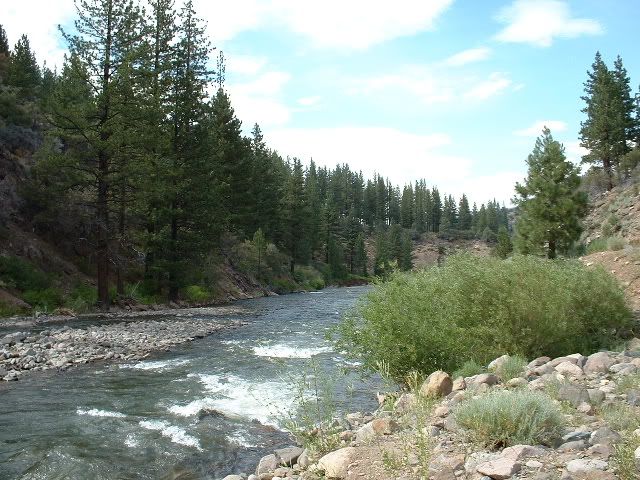 After saying a few more colorful words I hiked back to the truck and decided to take a pic of the truck. Which ended up being my favorite shot of the truck for the whole trip....
We then decided to head back to the cabin and call it a night. After all we had more fishing in the morning
The next morning we got up at 5 again and headed out to the dock for another morning out on the lake
Here's my Father inlaw Joe and John enjoying the coffee and breakfast provided by the charter boat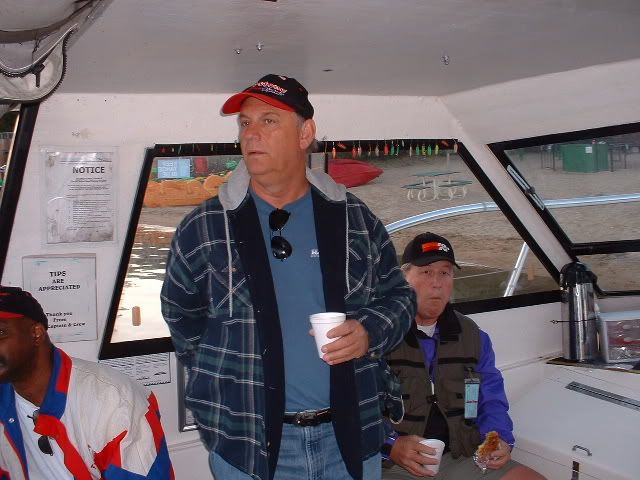 On the ride to North Shore to do some more trolling for Mackinaw, I had to take this shot.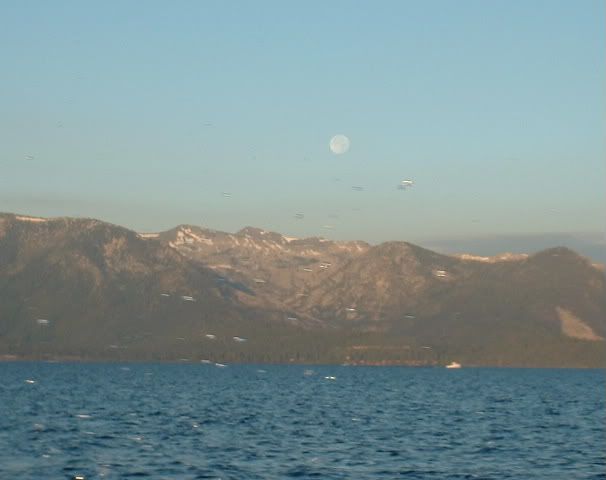 At the first stop we didn't catch anything, so we went to a new spot and started trolling again. I soon hooked into a Mack and I started to reele him in, but he swam into the other lines and got himself loose.
I was starting to worry that my dry spell was going to curse me this whole trip when Bob hooked and landed a really nice Mack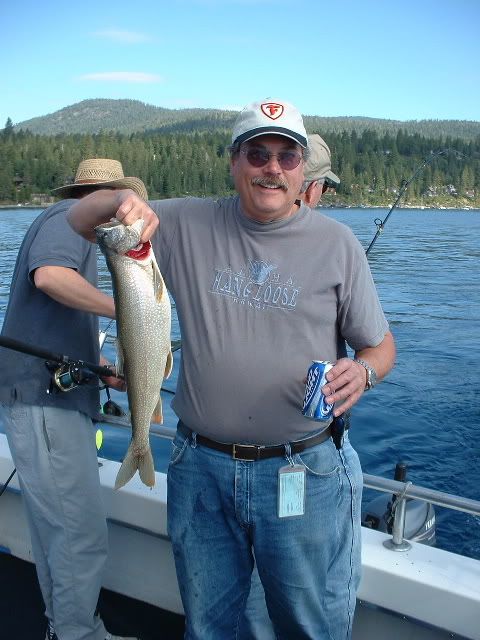 I kept asking myself... Am I going to get skunked This whole trip?
Then I hooked into another one. as I reeled in all 650 feet of line my arm was getting tired and I was affraid I was going to loose this one too.
But Soon I could see the fish and the deck hand came alive with the net
As I held up the fish for this shot a wave of relief came over me.
I'm always happy as long as I catch at least one.....LOL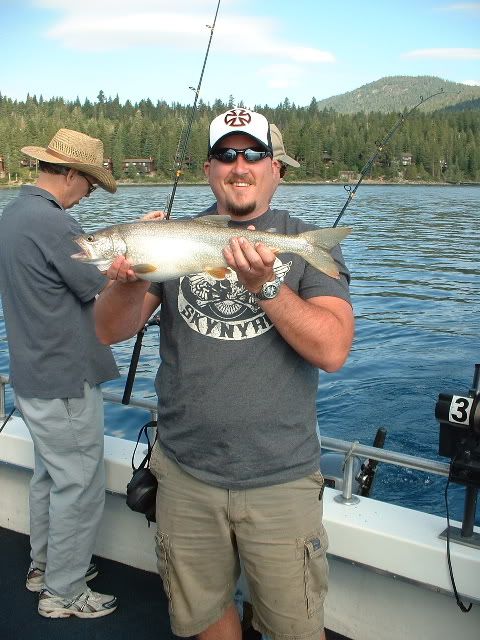 Indeed I was grinning from ear to ear....LOL
Bob then caught his second for the day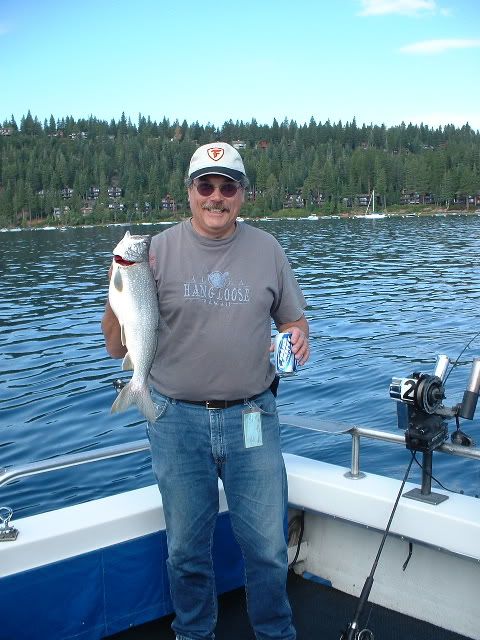 Bill soon caught himself one too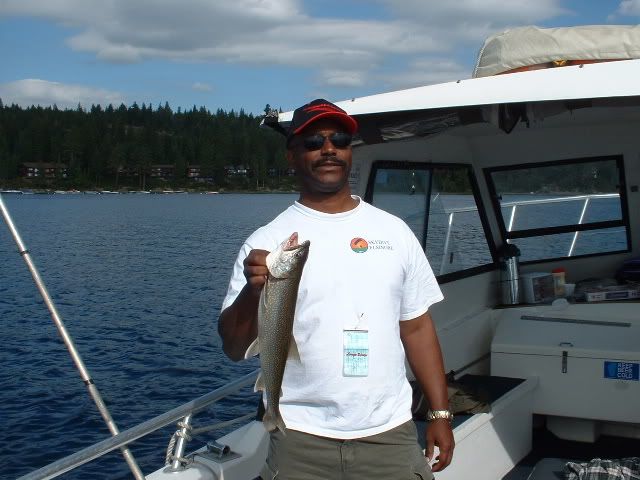 Then after about an hour Bobs pole cam alive, but instead of reeling in a third he handed his pole to the litte guy on the boat. He must have been about 8 or 9. he was able to reele in the Mackinaw all by himself. I think he was grinning more then I was though....LOL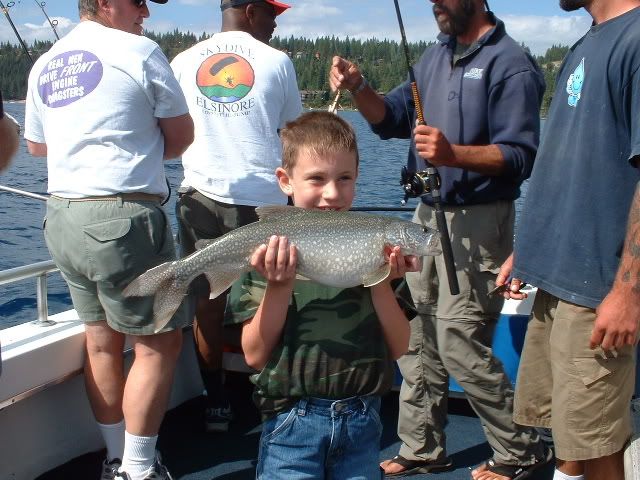 I always enjoy watch the little one reele in a nice fish. It's usually the kind of thing they remember.
Well it was soon 10:30 and the wind had picked up and made the lake choppy. We then started the 22 mile ride back to the dock through all the white caps.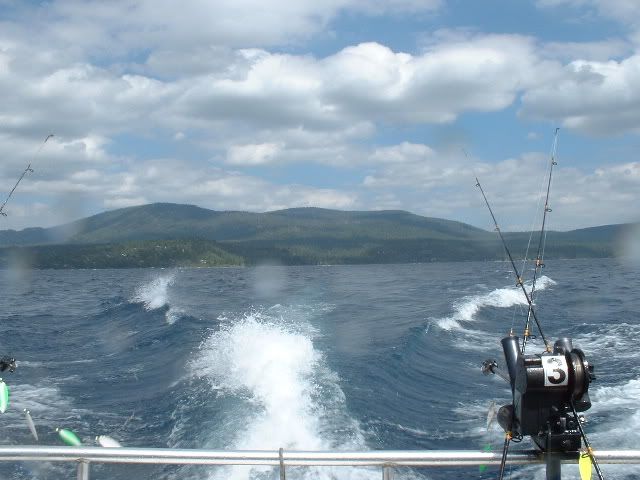 Then we went back to the cabin
This time we decided to have lunch at North Shore then spend the rest of the day at Donner lake.
Well we spent a little more time then we expected at lunch and we didn't get to Donner till around 4:00
Here's John out on the dock
After fishing for 2 hours with no luck, we decided to call it a day and head back to the cabin to get cleaned up for a night at the casino's
The next morning we all headed home
It was a nice day and a good end to a nice trip
Well that's it for this trip...
I hoped you enjoyed it...LOL...
I sure did