January 28, 2007
Finally Got to bring in the new year the right way. My buddy Gabe called me up and told me that his buddies Mark and Hector were going to take Mark's boat out to San Pablo Bay and fish for some Sturgeon and Sharks.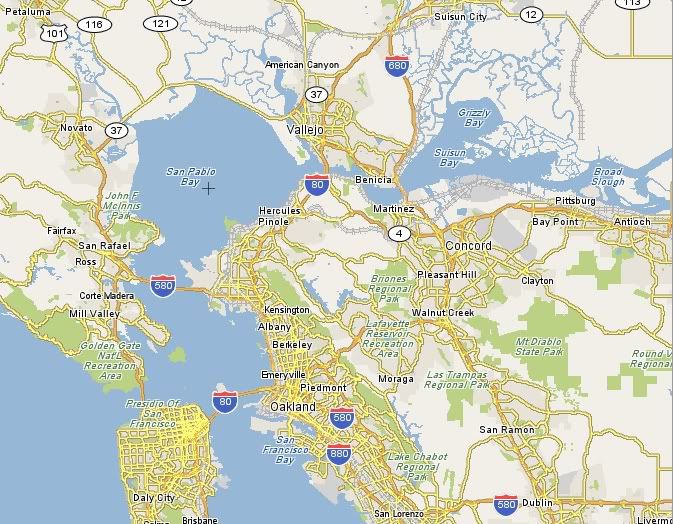 So we all met up in Pittsburg and loaded up Marks 27' Sea Ray and started the long ride. It was a cold wet morning, but it wasn't raining and there was very little wind. So the water was nice and smooth which made for a shorter trip. So after about 30 minutes we were already going under the Benicia Bridge...
Then about 10- 15 minutes later we had already gone under the Carquinez Bridge. I've never really seen it from this view before...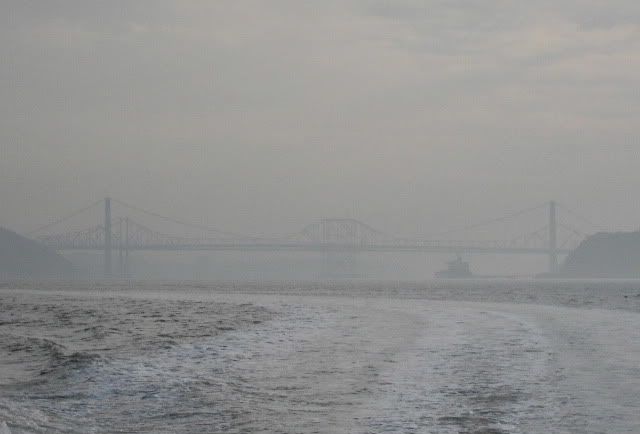 Then we found ourselves in San Pablo Bay. we then clused arond San Pablo Bay looking for "The Spot" for about 10 minutes. So after about a 40-45 minute boat ride we baited up and threw our lines in. I decided to loaded up with a combo Ghost Shrimp and Grass shrimp.
After about 20 or 30 minutes the fish decided to show up. Doug was the first luky Fisherman. He landed a beautiful little Leopard shark.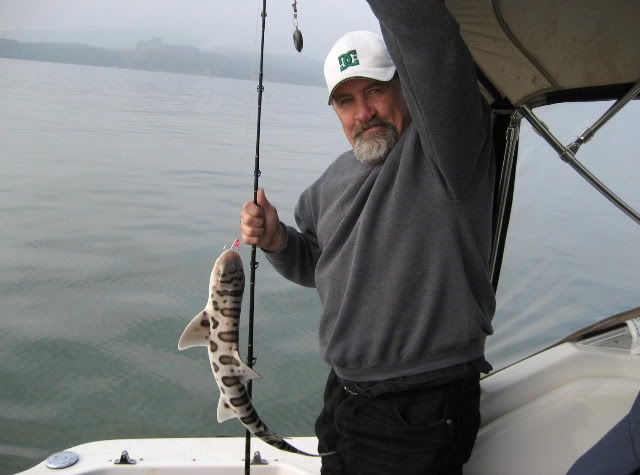 Then about 20 Minutes later Hector was next with a small Leopard
I just love the way these guys look. They so far are my favorite looking fish. Gotta love those spots...
Then maybe about 30 minutes later I felt the all too familiar nibble. I yanked on my pole to set the hook. I held my pole in the air to make sure the little guy was still there and I could feel him trying to fight. I started to reele him in and told everyone on the boat "It's a small one. I think it's a little leopard shark".... That how he felt...
Until...
He got close to the surface. the fish then turned and head down deep. My pole doubled over and my reele started to sing. I love the sound of line coming off the reele... ZZZZZ zzzzzzz ZZZZZZ. I knew then it was big what ever it was... I then started to use my hand to slow the spool and make the fish have to work for every yard of line he was taking. we then began the game of give and take. I had faith in my Spider Wire line... I just keep saying to myself hold Knots hold.
After the first two good runs we were pretty sure what was on the other end of my line. And soon we saw the familiar nose of the Sturgeon. I think I wore him out quick because he never cleared the water, just every now and then his head would come out of the water then he would go back down.
So after the 30 minute fight we eventully managed to get a rope around the big fish... Thanks to gabe and his rope work. I'll tell you what he is probablly one of the best deck hands and Fishing buddies you can take with ya...
A quick measurement and he was a keeper
So here I am with the bad boy...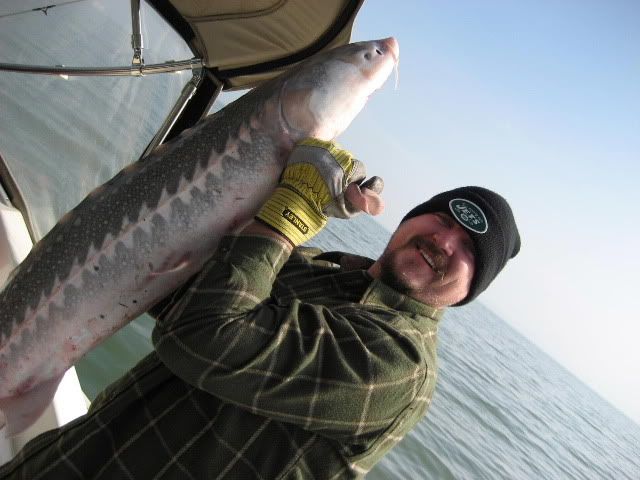 And here I am stumbling back almost out of the boat...LOL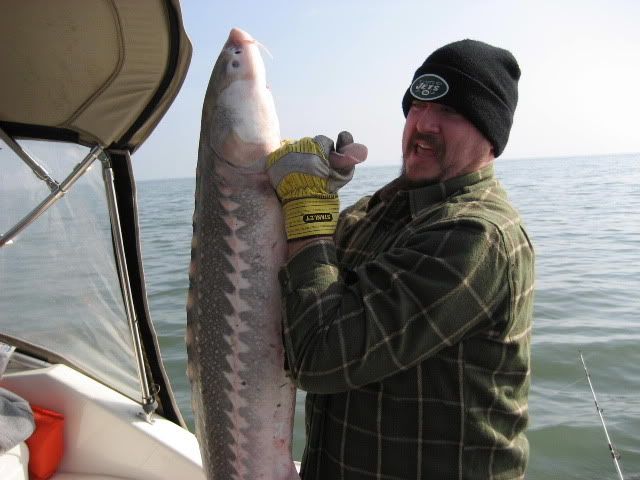 So after the hard fight I had to take a break and let my arms rest and drink a little Fisherman's Helper and enjoy a Cigar
The boat was Bolstered from the landing of a big fish so everyone quickly threw back in and waited for old Diamond sides.
Mark got a bite and pulled in another Leopard shark, but before I could snap a pic Doug had thrown him back in the water... I guess nobody wanted to mess with the little guys any more...LOL
I think you can see the rings in the water from the little guy....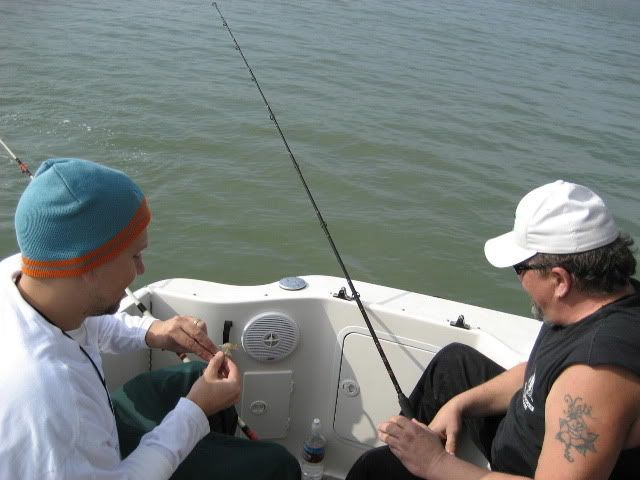 I like to think this pic is god shining down on us...LOL
But this is what the water looked like all day.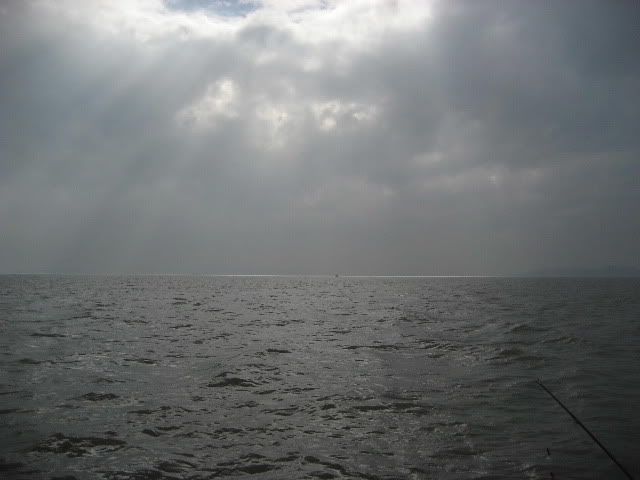 But it seems that after the Sturgeon's buddies saw him pulled from the water they decided to go home. The bites stopped and it was getting late so we decided to do the same.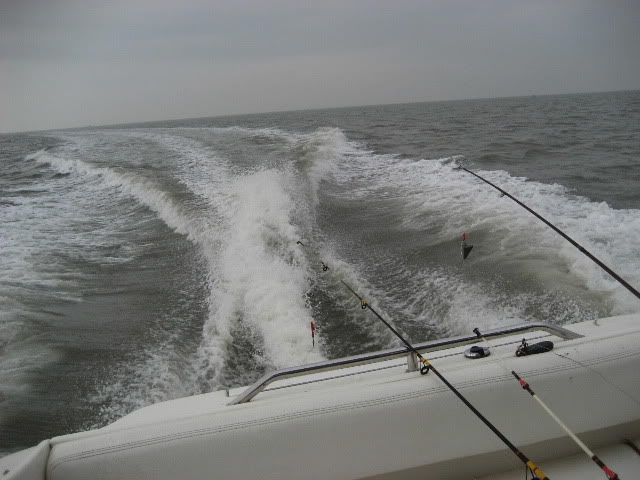 So here is the Carquinez Bridge and you can also see the Pure Cane Sugar factory down below it.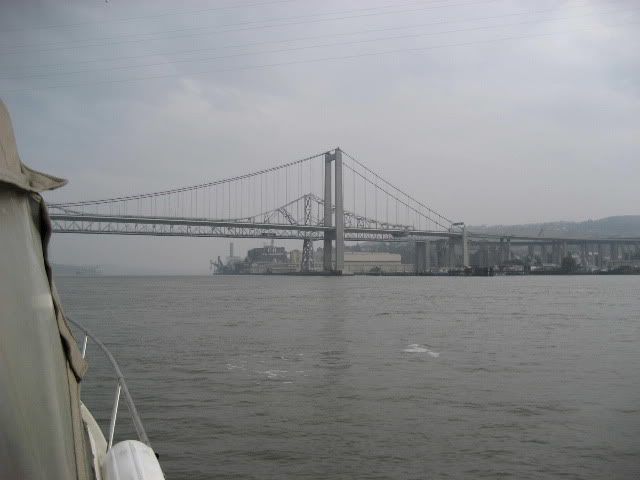 While driving back we passed on of the many big ships off load it's cargo...Or just docking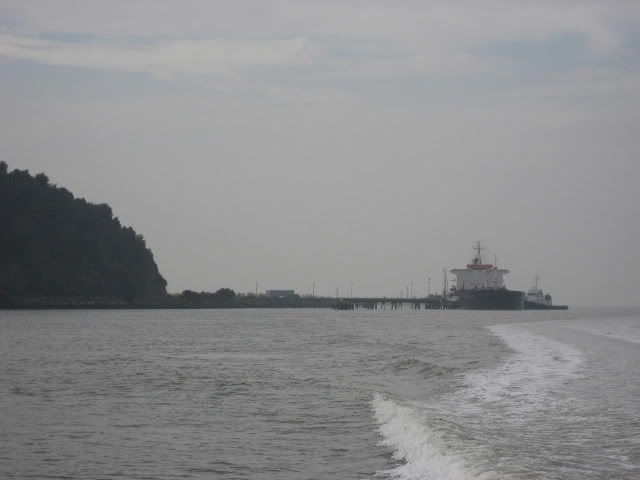 And as we approached the Pittsburg Marina I couldn't pass up this shot.
After we got to the dock we weighed and measured my Sturgeon.
He officially was 52" 37lbs... Small by Sturgeon Standards, but big for me.
And I think you can tell from this pic... I was one happy llittle boy...LOL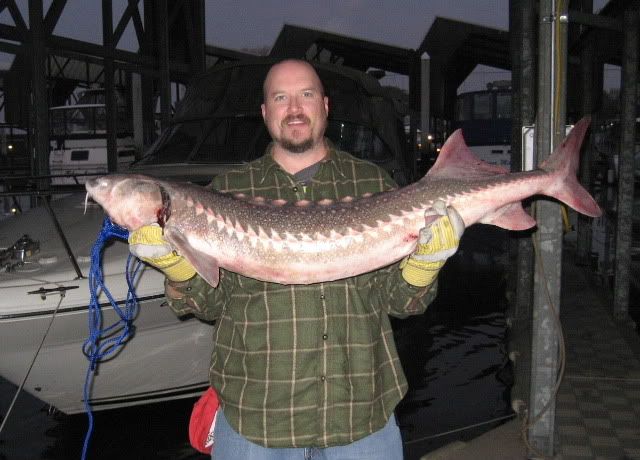 It's been 6 years since my last keeper, but it's been well worth the wait.
And I'm looking forward to Super Bowl and Sturgeon Nuggets.
It was a great day of fishing and I'd like to leave you with this little Saying...
FISHERMAN'S PRAYER
God grant that I may live to fish,
Until my dying day,
And when it comes to my last cast,
I then most humbly pray,
When in the Lord's safe landing net,
I'm peacfully asleep,
That in his mercy I be judged,
As big enough to keep.