May 2, 2007
Well it was that time again.
Opening day of trout season here in Norcal
But because of all of our work schedules we had to make it a short trip.
We only had one full day of fishing. SO Friday after I got off work Stacy's cousin English Marc and I jumped into the Durango and head up to Tahoe. Seems how this was her first long road trip with the larger tires and new torsion keys, I have to say that the big tires rode nice on the long trip and she never felt top heavy on the turns. SHe did bounce quite a bit, but we got used to it...LOL
ANy way we got to the cabin at around 10:30 and we quickly went to bed because we had to get up at 4:00. Seems how Saturday was the first day you were allowed to fish the rivers we had to get up early and get to the fish'n holes.
SO we got up and headed out at about 4:30. Believe it or not the first two spots were fully loaded with fisherman. So we moved up river more and found a Spot that was empty for the most part.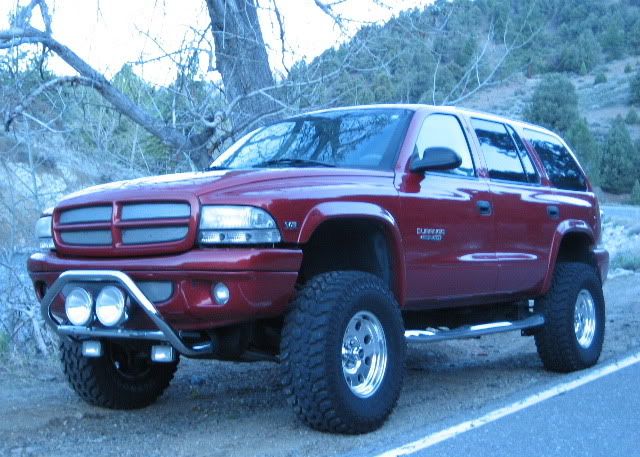 Here's a picture of my new Window Decal. My Cali Chapter of Suv World decal was done and looking pretty bad. So I decided to replace it with one that represented my new hobby.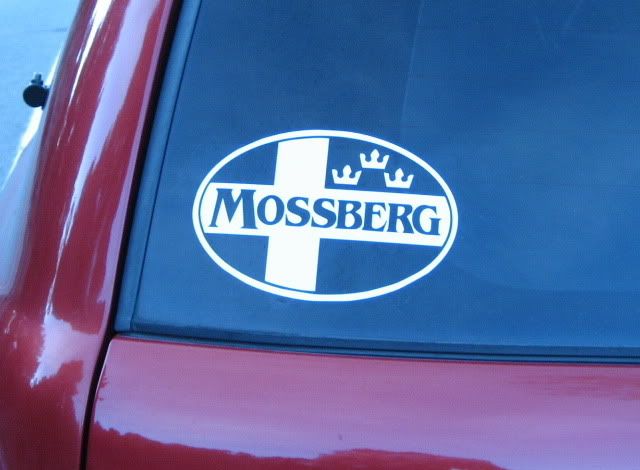 Well we grabbed our poles and suited up to do battle with the mighty Trout. I was looking forward to getting some action with my fly pole.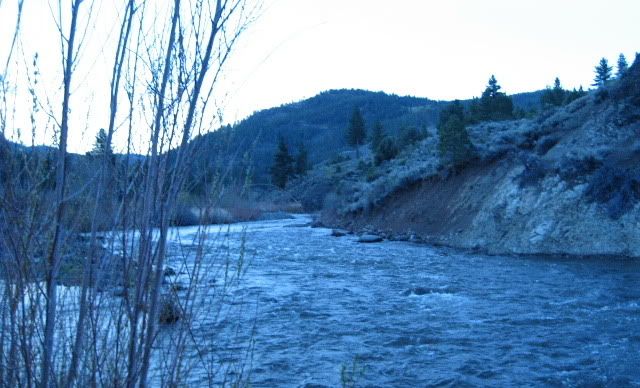 We soon figured out why this spot was empty. Fish and Game didn't stock fish here and it was still too early for the fish to spread out along the river. they were just holding where the were put into the river. But we got a good chance to read the water and figure out how much weight was needed. The water was almost perfect. It was nice and clear and not too high.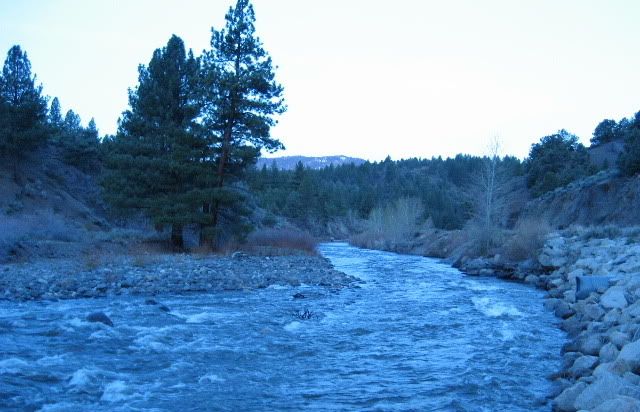 Seems how there wasn't a good chance of catching anything we decided to move up river again. While I was taking off my gear I noticed English re-tieing his line. I took a close look and could see he needed help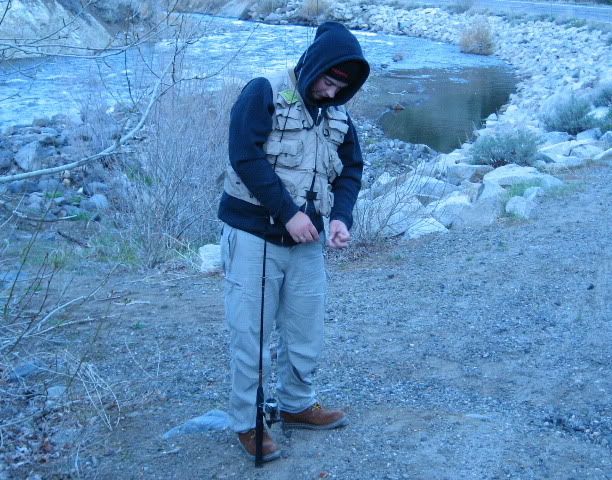 Here's the knot he was tying...LOL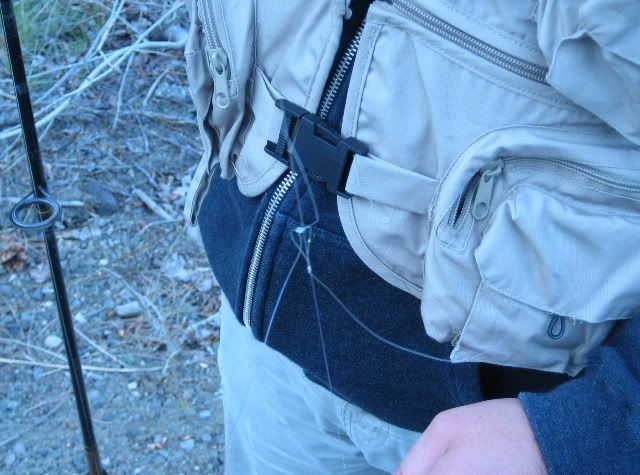 I had to explain how no self respecting fish would bit onto a hook tied like that, and then I showed him the proper way to tie a knot
In his defense this was only his second time fishing.
After that we hoped back into the truck and headed to the next spot.
There were a few more fisherman here but it was the last spot before we worked our way back down river.
We got a few bites and saw a few people lose a couple of fish at the bank.
SO after about an hour we decided to head into Markleyville and get some breakfast. Here's a picture of my Father inlaw Joe explaining how we probably have better luck once the sun hits the water...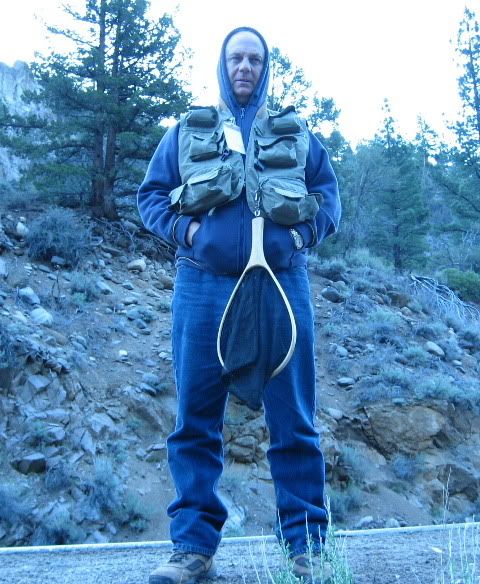 I think he was cold and wanted some coffee... Well I think we all wanted some coffee...LOL
But before we left I got a good shot of his new Envoy Denali...
I tried to tell him that with that nice of a vehicle it would be a shame to have it smell like fish, but he is a Fisherman and like the saying goes.... Us Fisherman don't die, We just smell funny...
So cafter Breakfast and a few cups of coffee we headed back out to a new spot.
This one was full of Fisherman as well, so finding a spot was hard...
Which made fishing hard
But I was able to get some nice shots of the river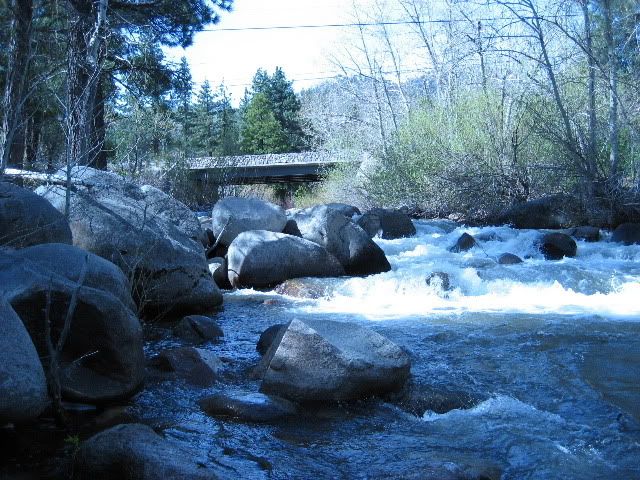 Our buddy Glenn was able to get right under the bridge and caught 2 trout, but all the other spots were taken